Secure Covers
Secure Covers: The Ultimate in Silage Protection
Secure Covers were designed and developed in the UK and are made from the highest quality, finely knitted, UV stable polyethylene. Secure Covers are used over normal polythene silage sheets and are fixed in place using Secure Gravel Bags. Once fitted, Secure Covers' unique construction disperse wind gusts ensuring that the silage sheet remains in place on the silage pit.
Secure Covers effectively reduce surface waste by keeping the silage sheet in close contact with the silage surface. The finely knitted mesh helps prevent bird damage to the silage sheet and when pulled down stops birds feeding on the feed face.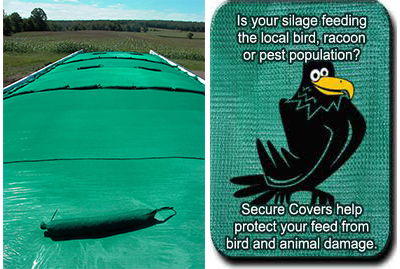 Strong and Secure
Secure Covers are so strong that they can prevent damage to the silage sheet from cats, dogs, people and even cattle.
Tirelessly Protecting Silage Pits
Labour saving
Tough non-fray knit
Heavy duty - 300 g/sqm
Reduces waste
Reduces bird damage
16 sizes
10 year full UV stability guarantee
Standard delivery 3 working days

---