Ag-Bag Silage Baggers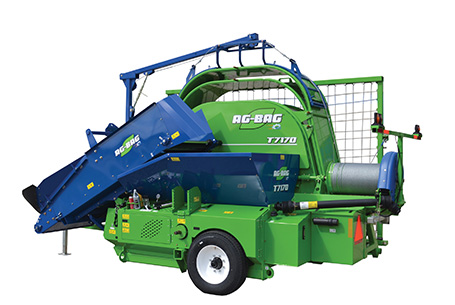 T7170 Pull-Type Ag-Bagger
The T7170 Pull-Type Ag-Bagger features increased forage capacity and many operational improvements. These improvements are based on dealer and customer input increasing overall performance while improving serviceability and transportability.
The New Revolutionary Rotor has twice as many teeth across the entire rotor taking smaller bites of forage for continuous flow. With smaller bites of forage, this means increased density and greater feedstuff compaction in the Genuine Ag-Bag. Forage Distributor
The Forage Distributor evenly distributes forage over the entire Revolutionary Rotor for faster unloading and increased capacity of Genuine Ag-Bags. The Forage Distributor is hydraulically driven and features paddle tines at ends to prevent crop build-up.
Features:
Chose 9-foot or 10-foot tunnel. Middle Tunnel Extension is also available
Taller sides for wind protection
Stainless, replaceable, reinforced floor
Increased reliability and less maintenance compared to previous split conveyor models
All machine controls in one place
Easy to open shields for chain inspection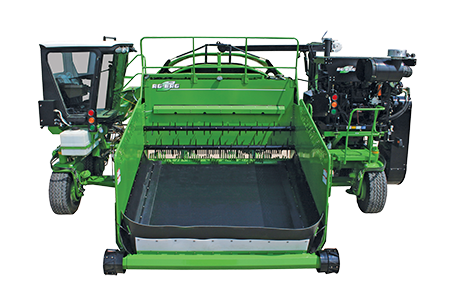 AB1214 Professional Ag-Bagger
Ag-Bag offers the AB1214 Professional Ag-Bagger, available with interchangeable 12 and 14 foot tunnel options. The bagger will replace the X1114 and LX1214
Features:
12' and 14' Full Tunnel Interchangeable
Fully Electronic CANbus controls
600 hp Tier 4 Emission Cummins QSX Diesel Engine
Low position rotor for uniform packing
Dual-mode steering
Two speed propulsion, throttle and rotor engagement.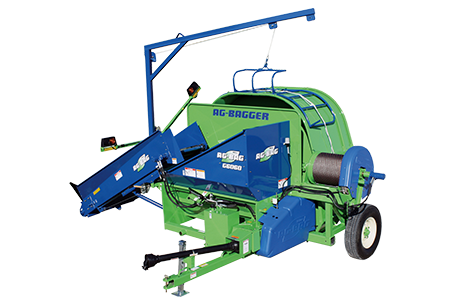 G6060 Ag-Bagger Pull-Type Ag-Bagger
The rotor and tunnel design are the key to a well packed bag. The G6060 6' line-bored rotor has 48 packing teeth to ensure a tight consistent pack. This leads to faster fermentation for better feed quality.
Features:
Straight conveyors for baggers with 6' rotors
Optional Split conveyors for baggers with 7' rotors
30" wide conveyor for high capacity
Lower clean out door for long life
CA550 roller chain for smooth operation and long life (top driven)
Conveyor moves with a cable and winch, hydraulic slide optional
Variable speed feed conveyor from ground level
Transport lights, SMV sign and reflective tape for transport
---